Head of Development 
We are so excited to be recruiting for a Head of Development at Pregnant Then Screwed. This is such a crucial role for the organisation as we strive for world domination (well, an end to pregnancy and maternity discrimination would suffice). Our tiny charity has grown from a blog in 2015 to a formidable charity which is changing the lives of women in the UK, changing legislation, and changing the narrative for working mothers. But we want to do more, and with your skills and expertise, we can. 
As one of my colleagues once said: ''It's never a dull day at Pregnant Then Screwed.'' One minute we are taking the Government to court for sex discrimination, the next we are organising a major national protest. We are impatient for change. A small, radical and hugely impactful organisation with an increasingly global reputation. Our mighty team consists of a bunch of brilliant women who care deeply about our mission and about each other and we would love for you to consider being a part of it. 
Joeli Brearley, CEO and Founder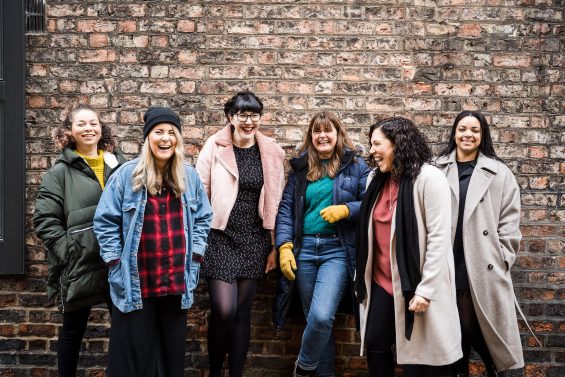 Job details
Role: 4 days a week (would consider 3 days or 5 days, please stipulate on your application what you are looking for) 
We strongly encourage applications from those interested in doing a job share (2.5 days a week) – please make this clear on your application.  
The role is flexible and home based with travel to York for team away days and across the country for meetings. You will need to be available for a team meeting on Mondays from 9.30am – 10.30am and for a one to one with the CEO for an hour each week, but besides this, when you conduct your work is at your discretion as long as it is pre-agreed with the CEO.  
⭐Salary: £46k – £52k Pro Rata (based on a normal 37.5 hour week).
Starting salary is £46k with expectation the salary will increase depending on successful delivery of targets. 
We use positive action under section 159 of the Equality Act in relation to disability or race. This means that if we have two candidates of equal merit in our process, we will seek to take forward the disabled, Black, Asian or minority ethnic candidate in order to diversify our staff team.
What does the Head of Development do? 
The Head of Development is part of the senior management team at Pregnant Then Screwed reporting directly to the CEO. You are responsible for income generation. You will diversify the income streams of Pregnant Then Screwed to raise vital funds which will fulfil our objective of ending the motherhood penalty. You will lead on the development and growth of our commercial income, which includes: "Pregnant Then Screwed training" for employers, speaker fees, and sponsorship of our events. You will be accountable for our fundraising pipeline and will lead on income generation from individual donors and major donors and trusts and foundations. You will explore other avenues for generating an income from our activities and profile. 
You will be a team player, able to expertly build new relationships and efficiently manage and prioritise your time. You will be confident in managing the process of securing new business from initial research right through to contract negotiations. As part of a small team, you will be the sort of person who likes to get their hands dirty – a doer with a track record of taking an idea from concept through to implementation. 
The ideal candidate will be personable, self-motivated, and a strategic thinker with a track record of securing new partnerships, major gifts and deals, able to work in a fast-paced environment and eager to meet KPIs & targets. You will be a skilled communicator, both written and verbally, with the ability to flex your communication styles based on your audience. You will have strong business acumen, and be comfortable engaging with a range of PTS stakeholders, attending face to face events and meetings, and have excellent attention to detail when composing proposals for clients, donors or Trusts. 
We see this role as combining three skills and specialisms: 
Business Development with a background in B2B sales 

Fundraising with an emphasis on major gifts and individual donations

Fundraising with an emphasis on Trusts and Foundations  
We are either seeking to recruit someone who has all of these specialisms, or we would consider a job share with two people who together fulfil all of the above. Please note that we have been successful when securing funding from Trusts and Foundations, but have not had any success to date with major gifts and we are keen to explore this opportunity further. 
Your income target for 2023 is £500k. 
In 2022 PTS generated an income of £344k. 
Confirmed income for 2023 is £248k. A more detailed breakdown of our budget will be supplied to all shortlisted candidates. 
The post holder(s) will be required to
Attend a 1-hour weekly online team meeting on a Monday morning 

Attend a weekly online one-to-one meeting with the CEO

Outside of this, the role is entirely flexible and can be done from anywhere in the country. 
👌Key responsibilities:
Business Development:  
Identifying, researching and cultivating new commercial, fundraising and strategic opportunities

Develop the Pregnant Then Screwed employer training offer 

Research businesses and industry trends to identify potential new clients and markets and ways to serve existing clients better

Develop and implement new ideas for generating an income from PTS activities and profile 

Engage new clients through direct contact, word-of-mouth and collaboration with the wider PTS team and relevant stakeholders

Manage the relationship with sponsors and clients 

Attend events and meetings with the Enterprise Development Fund (who fund our training programme)  

Develop the marketing strategy for Pregnant Then Screwed training alongside the Campaigns and Communications Manager

Build relationships with the PTS Trainers, and engage new trainers to deliver other training models relevant to our offer 

Prepare client presentations, proposals and contracts

Review client feedback and implement necessary changes to our training offer

Achieve the financial goals set by the CEO
Fundraising 
Manage the relationship with donors and funders 

Be accountable for all individual giving. In collaboration with our Head of Comms and Campaigns, design and deliver strategies to raise money through fundraising 

Develop relationships and secure an income from major donors 

Be accountable for all Trust and Foundation revenue (approx. £300k per annum). This includes identifying potential Trusts to submit an application to, overseeing the development of bids, and developing relationships with new trusts and foundations.  You will be supported by a Trust and Foundations specialist who works 2 days per month. 
👌Person Specification 
You'll have significant experience of business development 

Proven track record of securing 6 figure partnerships 

You'll demonstrate an ability to raise large sums of money for an organisation 

You'll be entrepreneurial and you will have a proven track record of meeting targets 

You're a talented relationship builder, able to negotiate and engage a wide range of businesses, funders and senior leaders, as well as motivate and influence internal stakeholders including at senior leadership and trustee level.

Previous experience of securing an income from major donors and individual donors 

Excellent organisation skills, with experience of working with multiple stakeholders simultaneously and managing large and complex bids

You will have a passion for our mission to end the motherhood penalty and to make workplaces in the UK the best they can be for working parents 
Desirable
Experience of selling training programmes B2B

Experience of designing online and offline training programmes

A network that includes HR professionals and senior management

Experience of working for a charity or charitable organisation

Experience of working remotely 

Experience of pregnancy or maternity discrimination

Based in (or close to) York  
👌Benefits 
In return you will receive an annual salary of £46,000 per annum pro-rata working for a really exciting, energetic, high impact charity with an increasingly global reputation.
You will also receive a generous benefits package including:
25 days holiday per year (inc. bank holidays) plus additional leave at Christmas

3 duvet days per year 

Flexible working which is fully embedded in our culture

Support with further professional development, including the allocation of an annual training budget of £1,000 

Enhanced parental leave. 

This includes: Maternity leave = 12 weeks at 90% of salary, plus statutory for the remaining 27 weeks. Paternity leave = 6 weeks at 90% of salary.

Support with your mental wellbeing through Spill. This includes access to one off therapy sessions with a professional where required and a course of therapy with a professional

Training to help you identify vicarious trauma symptoms 
📩To apply:
Please send your CV and a 500 word covering letter detailing how you fulfil the person specification to [email protected] by 30th January 2023 at 5pm. 
Make it clear on your application whether you would like to be considered for a job share or what hours/days you are looking for.
You will then be notified if you have been shortlisted by 6th February 2023 and you will be asked to send a 2 minute video explaining why you're the right person for the role and why you want to work for Pregnant Then Screwed. If you do not feel comfortable sending a video, you can let us know and we will consider a written application in response to some further questions. 
Interviews will take place either in person or online on 14th and 15th February 2023. 
About Us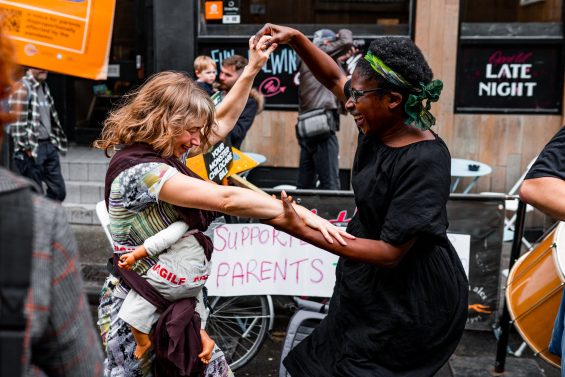 Pregnant Then Screwed is the UK's leading charity working to end the motherhood penalty 
Our Vision
A society where care is valued and in which pregnant women and mothers in all their diversity are enabled to fulfil their potential; creating a stronger, happier better future for us all.
Our Mission
We are the voice of working mothers in the UK. We have a strong and deep connection with our beneficiaries. We provide world-class advice and support to mothers to help them improve their confidence and wellbeing, to give them the tools they need to challenge discrimination in the workplace, and to support them to find work that works for them. We advocate for change and raise awareness of the specific challenges faced by working mothers. We challenge deeply entrenched stereotypes about the role of mothers in society. We work with employers, politicians, women and men to make change happen. We publish compelling research to educate, inform and lead the debate.  
Our principles
We want radical change: Constantly striving for an overhaul of the way we live and work – we don't believe small tweaks work. We will work with politicians, employers, collaborators and the public to achieve this.
We translate complexity and make it simple: Ensuring our beneficiaries understand complex legal language, policy, data, research and legislation that could impact them both positively and negatively
The lived experience of the people we support provides insight and informs everything we do: Leaving ourselves room to be reactive to issues, opportunities and campaigns as they arise is critical. Our experience and expertise ensure we can identify important campaigns and projects. 
Create and nurture a deep and strong connection with our beneficiaries/community: Not only providing our beneficiaries but ensuring we include them in every element of our work. Ensuring PTS feels like a friend and confidant, and makes our beneficiaries feel as though they are part of the team. Talking to our beneficiaries as we would talk to a friend.
To be the voice of working mothers we need to listen, always: Being willing to adapt and iterate based on feedback from our beneficiaries, and we always listen no matter how uncomfortable it may be. We don't think we always know best!
We will challenge and be provocative to create change: Not being afraid to show our anger. We believe anger is a mechanism for change. We will, on occasion, campaign on and talk about the issues that others are too nervous to discuss 
Our core activities: 
Free advice line giving pregnant women and parents advice and answers on questions related to parenthood and work, including: Redundancy, Flexible working, childcare and leave and pay queries staffed by CIPD level 7 HR professionals operational 60 hrs per week

A legal referral service providing women with one hours pro-bono legal advice supplied by our legal partner, Primas Law. They advise on cases where discrimination is evident, the woman feels as though they are being pushed out of their job, they are appealing a redundancy or may need support when settling an agreement. 

A mentor scheme which supports those who experience pregnancy or maternity discrimination to take legal action against their employer 

Events which help mothers and pregnant women rebuild confidence and find work that works for them

Campaigning for changes to legislation which reduce the gender pay gap and improve workplace equality for pregnant women and mothers 

Changing public attitudes through traditional and social media. 

Developing research on issues related to the motherhood penalty – including data collection and case study documentation 
Our impact in 2022
We supported

66,951

women with free advice and support. 47% said we improved their financial outcome. 97% said it improved their confidence, 93% said it improved their wellbeing, 98% said it improved their knowledge 

Secured over

£1.3 million

for women who used our services 

1178

mentions of our work in national and international media including front page of the Observer, Sunday Times and the Independent 

Our work was mentioned in Parliament

every 11 days

 

We trained

160 volunteers

on everything from:

D&I, vicarious trauma, imposter syndrome, women's safety, identifying signs of domestic abuse, employment law updates, and we ran a mock tribunal

287,978

followers on social media (an increase of 84,000 since 2021)

We conducted research with

81,439 parents

on everything from childcare to paternity leave 

17,848 people

emailed their MPs using our letter templates demanding action on childcare, flexible working and parental leave 

We delivered talks on the motherhood penalty to

3,530 employers

March of the Mummies protest: 11 cities. 15,000 families. 64% had never been to a protest before. Raised in Parliament twice. Trended on social media. Coverage on BBC, ITV, Ch4 News, plus Question Time, Woman's Hour, LBC and more.

Supported the Flexible Working Bill and Redundancy Protections Bill which both have ministerial support 

Chancellor increased SMP and MA with inflation after we encouraged thousands of people to write to their MP about this

We launched our mental health support service with MIND. We supported 1,450 women to improve their mental health  

Our work was raised as a

motion

in the Scottish Parliament 

We contributed to 5 Government consultations and inquiries and we gave oral evidence to the London Assembly and the House of Lords
Pregnant Then Screwed training:
Pregnant Then Screwed can offer bespoke training to companies as well as online digitised training to help employers make their workplace the best it can be for working parents.
We have already worked with employers such as Publicis and The Environment Agency. 
Pregnant Then Screwed currently works with two experts in HR and parental policy to deliver their training courses.
RESET
Our annual festival RESET attracts 1500 women to our online programme of events, talks and workshops. Last year's theme was: 'Motherhood and Mental health.' We secured £30,000 in sponsorship. In 2023 we are considering a hybrid event focussed on Confidence and finding work that works for you. 
Other potential areas for growth: 
Speaker opportunities for the CEO 

Events for our core audience 

Contracts with organisations to deliver research

Utilizing our online profile to develop an income stream for the organisation (this must be in keeping with PTS core aims) 
The Team:
You will be supported by the Pregnant Then Screwed team which includes: 
Joeli Brearley, CEO and founder 

Analiese Doctrove, Head of Operations 

Lauren Fabianski, Head of Communications and Campaigns

Taryn Robinson. Communications Assistant 

Emily Taylor, Support Services Coordinator 

Osha Daley, Outreach and Services Coordinator