Where is the rally?
📍George Square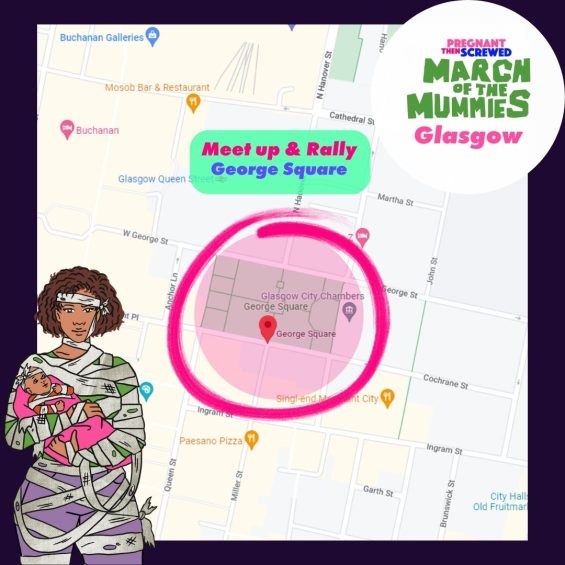 Will there be toilet access ?
The toilets available are the public toilets managed by the Council. You can find toilets along the route using this website, or the Flush app (Android & Apple) .
Will I have access to water?
There won't be any water provided during the march however, we do recommend you bring a water bottle and if you're able to, download the app 'Refill'. This will provide you with locations along the route where you can access water.
What if I need to sit down?
Please bring foldable chairs if you can, unfortunately we don't have the resources to hire and manage seating areas in all of our locations.
What time does rally start?
At 10.30am we're meeting up at George Square, where the rally will start at 11am.
Will I be arrested for taking part in a protest?
The policing bill has not been brought into force yet so we are still able to protest freely. March of the Mummies has been agreed with the local council so there is no reason why anyone would be arrested.
Can I bring children? Can men come?
This is a family friendly march. Everyone is welcome.
Will the march still take place if it's raining?
No matter the weather, we will rally. Bring a brolly and sun cream – just in case.
What's the best way to share this through my personal social media?
Please make sure you're following Pregnant Then Screwed on social media and tag us in any pictures or videos on the day. You can also use the #MarchOfTheMummies
How can I join in if I can't attend in person?
We're asking those who cannot attend in person to post on social media on the day of the protest using the hashtag #MarchOfTheMummies
Can I make a banner?
We would love it if you could create your own banner/placard. Feel free to create your own but if you are looking for ideas, there are lots on our website – just remember this is a family friendly protest. Take a look!
Can I put up posters for my March?
Of course! Download and print your poster here!
Anything else I should know?
Please follow the Glasgow March page on facebook page for updates, keep an eye on your children if you're bringing them along (write down your name and number and stick in in their pocket just in case) and if you need anything on the day, or see anything that needs attention, please alert one of our stewards.
See you there!!! 🧟‍♀️🧟‍♂️🧟